IVFCRYO offers 20% shipping discount for National Infertility Awareness Week
IVFCRYO is offering discounts for it's IVFCRYO-SHIP service. Shipping of embryos, eggs, semen, reproductive tissue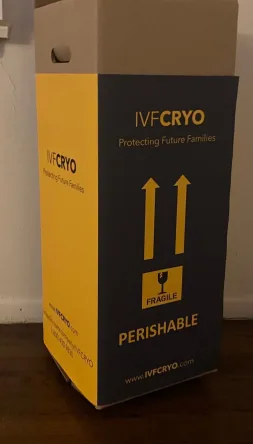 As part of the National Infertility Awareness Week, IVFCRYO is helping clinics and their patients prepare for upcoming fertility procedures by providing discounted shipping cost for the transfer of embryos, eggs, and semen.
National Infertility Awareness week
With 40+ years of experience and over a million reproductive specimens shipped, who else would you trust with your client's last embryo, oocyte, or semen specimen transfer?
For the National Infertility Awareness week, IVFCRYO will offer it's IVFCRYO-SHIP service for the transfer of embryos, eggs, semen, and other reproductive tissue with a 20% discount for new clients. This promotion is available from April 20th through April 25th of 2020.
"We wanted to do something different this year" said a representative of IVFCRYO. "We didn't want to just provide information and brochures about how we can help the fertility industry… or metrics and publications about the IVF industry. We wanted to do something that shows our clients we care about them, especially in a COVID-19 era of uncertainty. The one thing clients will have certainty about is that their eggs, embryos, and semen tissue will be transferred as safely as possible to its new location… and at a 20% cheaper rate than usual."
ABOUT IVFCRYO
IVFCRYO is a premium cryogenic service business specifically created and tailored to help the fertility industry mitigate the risk of specimen loss. Initially acting as a cryogenic consulting company to help advise clients on best practices, IVFCRYO has grown and expanded it's product line to provide full service "EVERYTHING-CRYO" for the IVF industry. These services now include Specimen Shipping, Tissue Storage, Cryogenic Facility Design, Consulting, and Cryogenic Services such as Cryo-Equipment Sales/Distribution, Repairs, and Maintenance.
When IVFCRYO was created, thousands of reproductive tissue specimens (embryos, eggs, and sperm) were being lost or damaged throughout the fertility industry each year. The IVFCRYO mission at that time was simply to provide an expert voice to the discussion and help friends/business partners prevent these types of events with the very specific cryogenic fertility knowledge that makes IVFCRYO so special.
While advising hundreds of IVF fertility centers, it became very evident that the services IVFCRYO recommended didn't exist in a way that was user-friendly, client-centric, and truly solved the problems that IVF clinics face. Through the creation of IVFCRYO products and services, clinics now have a better and safer option for all of their cryogenic needs.