IVF CRYO Partners with PharmaWatch
IVFCRYO announced it's partnership with PharmaWatch™ to bring you the safest storage solution available in the fertility industry… the IVFCRYO-One. CEO of IVF CRYO, Don Fish, stated "Today… your Sperm, Eggs, and Embryos just got safer!!!" The IVFCRYO-One storage unit will now be integrated with PharmaWatch™ technology providing a redundant 3rd party monitoring system for call out alarms based on AI […]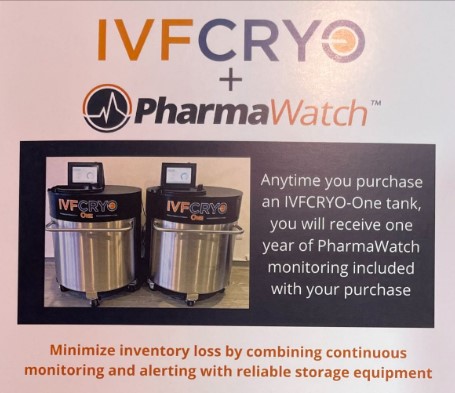 IVFCRYO announced it's partnership with PharmaWatch™ to bring you the safest storage solution available in the fertility industry… the IVFCRYO-One.
CEO of IVF CRYO, Don Fish, stated "Today… your Sperm, Eggs, and Embryos just got safer!!!"
The IVFCRYO-One storage unit will now be integrated with PharmaWatch™ technology providing a redundant 3rd party monitoring system for call out alarms based on AI technology! This is the only storage unit in the IVF Market that provides this level of monitoring all in one complete system right out of the box.
And the price for this service? How about free? That's right… it's included for FREE!
To lean more about the IVFCRYO-One and the PharmWatch technology that's protecting the tissue inside, click here.